It's International Sloth Day on 20 October 2020
Posted on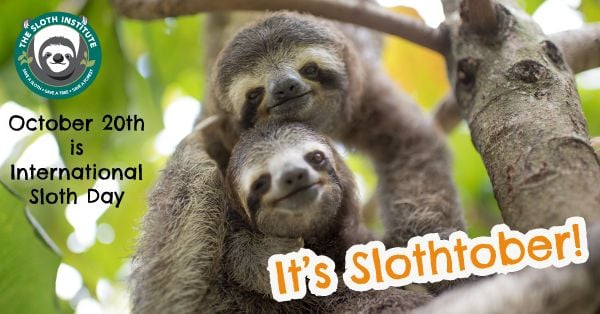 image ©The Sloth Institute
The Sloth Institute are based in Costa Rica. Their mission is "to enhance and expand the welfare and conservation of sloths."
It has a three angled approach to achieving its mission: research, education and conservation. It's not a sloth sanctuary; it specialises in research and education, focusing on the behaviour, health and welfare of recently released, wild and captive sloths.
This October, The Sloth Institute is running a full diary of sloth actiivties in their first Slothtoberfest!
Follow #slothlove to help keep up with all the sloth goings-on. There are virtual activities and all "sloth adoptions" are half price for all of October!
Adopt a sloth during Slothtoberfest, and you'll automatically be entered into a live raffle drawing on 2 November. The winner will receive a FREE upgrade to a Hero adoption - and that includes a live video chat with a sloth expert and the sloth "in training" of your choice!
Find out how to mix your own sloth cocktail, how to draw a sloth - and there's a quiz too so that you can test your own sloth knowledge!
Head off to the Sloth Institute to find out more!