The Horse Trust - Hay for Horses Appeal
Posted on
Sept 2023: NEW APPEAL FROM THE HORSE TRUST
Will you please become a Horse Trust Hay Helper and help ensure the horses and ponies in the care of the Horse Trust can have hay for the winter? One small bale of hay is £5. Find out more.


The amazing Horse Trust in Buckinghamshire look after horses who have retired from the police and military, and ex-therapy ponies. For instance, Fred and Starling used to live at a care home that catered for people with learning difficulties and challenging behaviour. Caesar worked for Thames Valley Police, and Sydney had a career with the Royal Mews.
The Trust also take in severe welfare cases, and examples include Star who came from Spindles Farm and Bear and Shetlands Fidget and Widget who were found in a field with only a puddle to drink from and no grass to eat.
Many of these horses need specialist veterinary treatment and the Trust has launched an Urgent Vet Appeal:


The Horse Trust is looking to raise £45,000 to secure essential medical equipment and deal with the repairs needed for their Isolation Unit.
These steps are vital to enable the team to treat severe welfare cases, such as little George, and to care long term for those service horses who are living out their retirement at the Horse Trust and who deserve the very best we can do for them.
£10 will pay for forage for George for a week
£30 will help pay for essential lab tests for horses and ponies
£50 will help the Trust buy vital laboratory equipment such as x-ray and ultrasound machines
£100 will help repair the Isolation Unit
Please will you help the Horse Trust today? They are based in Buckinghamshire. Thank you for reading this.


Please help by donating to the appeal here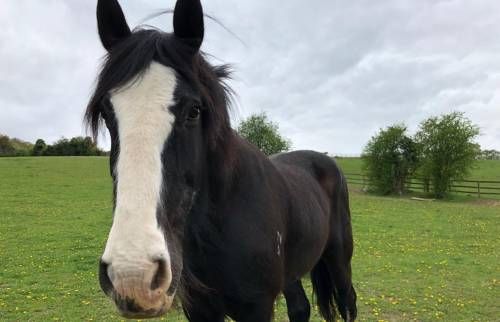 You can also help the Horse Trust help retired horses
who have served the nation by sponsoring a resident such as Caesar
who served for Thames Valley police.
Image ©Horse Trust


Our thanks to everyone looking after these wonderful horses, and thank you too to the horses themselves.