Coronavirus: Help Free the Bears
More news is coming in of animal charities needing help with their rescues, and if you can manage it, please donate – it's basically that straightforward.
Free the Bears have rescued over 950 bears in their time – they have helped the most vulnerable bear species for 25 years – sloth, sun and moon bears. They care for rescued bears in their bear sanctuaries and they protect bears in the wild.
Two moon bears rescued from a life in a cage

On June 9 Free the Bears went to rescue 2 moon bears. The brother and sister were malnourished - they had been kept in a tiny cage for over 15 years. The next day, Free the Bears reached them and rescued them! The bears will now spend at least a month in quarantine - and then it's off to large enclosures! They'll enjoy climbing frames, hammocks, caves, swimming pools, vet care and a healthy diet and enrichment to complete their rehabilitation. These bears are now safe thanks to everyone at Free the Bears.


But they need your help urgently!
Now for the bad news: due to the coronavirus, Free the Bears are very short of volunteers who are no longer able to visit and help, and donations. Over the years, they have been able to manage increasing bear care costs by raising funds with Bear Care Tours and Experiences at their sanctuaries.
The coronavirus has led inevitably to cancellations and no funds coming in.
Can you help?
They ask that, if we are able to, we become Bear Carers & commit to a small monthly donation. The Bear Buddy level of Bear Carer is just AUD$10 a month – that's about US$6, Euro5.5 or £5 a month.
If enough of us sign up to become a Bear Carer, that will help Free the Bears get through these very tough times. It would make a great gift for anyone who loves nature and bears. Become a bear carer and help provide their rescued bears with good diets, enrichment activities to stimulate their minds, fantastic vet care and large forest enclosures – all the bear necessities of life


Free the Bears actually has a number of other ways you can donate:
Just make a donation, pure and simple
Become a bear sponsor - sponsor a bear and help the bear and his or her friends!
Give a bear a gift – this could make a great gift for a bear lover. You can click on a number of bears and choose one (goodness knows how, they all look adorable) and your sponsorship will go towards your special bear and their friends at the sanctuary! There's a range of them to choose from – a pot of honey, a tub of peanuts, a treat ball, a bear cub kit, a bear hammock (essential for those lazy days), a bathing pool (lovely to cool off in) and a climbing frame. Gifts start at 15 Australian dollars but you can do this all on line from wherever you are in the world. 100 Australian dollars at the time of writing was just under £50 (but currency rates vary from day to day so don't quote me!)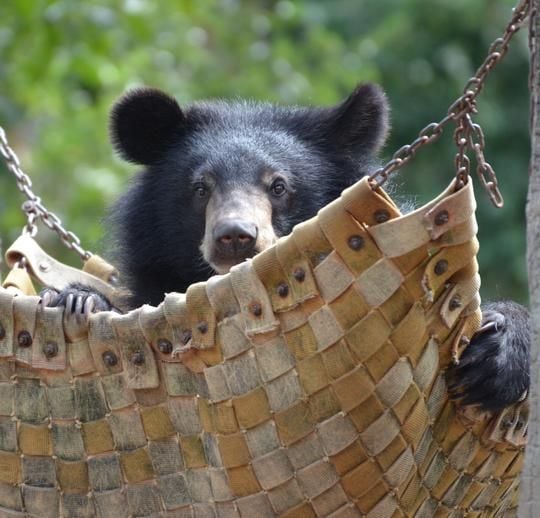 Give a bear a hammock
©Free the Bears
Free the Bears leads nationwide campaigns in Cambodia and Laos to raise awareness and educate local communities about wildlife and the illegal wildlife trade. Their Awareness, Communication and Education Teams give local and international youth groups tailor-made schedules with interactive lessons, games and activities about the environment, wildlife, conservation and sustainability.
The Royal Zoological Society of Scotland has a project with Free the Bears – you can find out about it here.