#BanLiveExports
#BanLiveExports
The 14th June 2023 is Ban Live Exports International Awareness Day
Why have one? Because millions of live animals are transported thousands of miles every year - they suffer on board without sufficient food or water, or rest, and even sick. Many animals fall sick, or get injured, or die, and heavily pregnant animals, and over-crowding is rife. Some face a terrible slaughter at the end of this journey and some ships never make it, as they sink or catch fire.
Ban Live Exports International Awareness Day is a really good opportunity to show people exactly how many animals have to go through live export, and where and what they have to go through en route.
So what can you do?
WARNING: Some of the things you may see on websites and social media about this subject are terrible to see - which is all the more reason for us all to act and #BanLiveExport. Animals need our practical help - they need us to act because they can't.


Find out more from Compassion in World Farming (CIWF)

EU Animal Transport


CIWF are working to call for the end of all long-distance live transport and end live exports from the UK, from the EU to non-EU countries and to ensure that international legislation and guidelines on the welfare of animals in transport and slaughter are enforced
Actions you can take include:
Spread the word on social media and help create a huge storm on Twitter on the 14th June with the hashtag #banliveexports
Go to CIWF's Ban Live Exports International Awareness Day page for updates on the 2023 event and share them.
Be informed - look at their reports on live transport

and watch and share them - many people have no idea how far animals have to travel, alive, to slaughter, nor of the terrible conditions they suffer on the way

This is a global issue, not just a UK one. Find out about how animals are affected around the world by live transport
Visit Kent Action Against Live Exports (KAALE)

- show your support - live export sailings from the Port of Ramsgatge and visit the

Stop Live Exports from the Port of Ramsgate Facebook page.
If you eat meat, make sure you're not adding to the problem. Be part of the solution: if you eat meat, buy meat that's produced locally, and reduce the amount of meat you eat, be it by portion (i.e. eat less per meal) or frequency e.g. you could have a Meat Free Monday!

Visit the

Vegetarian Society for lots of love vegetarian recipes and the Vegan Society

Visit World Horse Welfare's webpage on Long-distance transportation of horses to slaughter in Europe and find out more about it.


Sign petitions such as:

Visit the websites for charities involved in the issue of live long distance transport below and see what you can do to help and get involved.

Plus in the UK...
Please ask your MP

to help deliver a British live export ban.

Needless to say, the UK Government has backtracked on the Kept Animals Bill which would have banned live animal export for fattening and slaughter. Find out more about that from CIWF. It was introduced 2 years ago and animal charities were hoping this time it would get through but the government has delayed it. Find out more from Redwings Horse Sanctuary

and

World Horse Welfare

and please act. The Kept Animals Bill had legislation to tackle puppy smuggling, dogs with cropped ears, livestock worrying and keeping primates as pets, so it matters.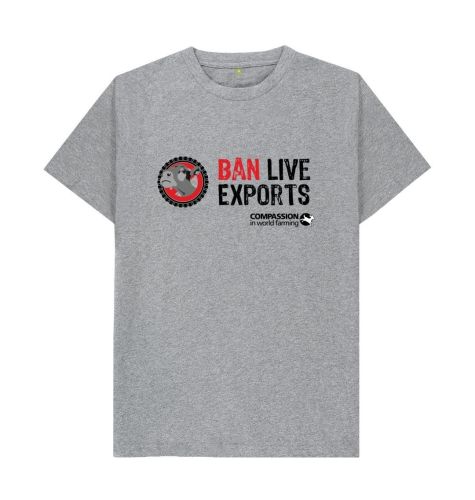 Help spread the #BanLiveExports message with a t-shirt from CIWF
£24.00 online, t-shirts available for women and men

Charities involved in efforts to Ban live transport
Compassion in World Farming (CIWF). Act now: UK Govenrment vowed it would apologist cruel live shipments of animals" by passing the Animal Welfare "Kept Animals" Bill. You can donate to help CIWF with its work here
Four Paws have a petiton to demand the export of live animals outside the EU, a ban on the transport of unweaned aniamls, a ban on long-distance transport over 8 hours (4 for rabbits and poultry) and a ban on the transport of live animals on the sea.
World Horse Welfare is campaigning to ban live export and also has a petition to stop horse smuggling.
Animals Australia ave a campaign to help end illegal animal abuse.
Mercy for Animals have an international campaign are looking to ban live export.
American Wild Horse Campaign reported on a live horses being shipped from Canadian airports to Japan for slaughter and they also have a campaign to support the Horse Transportation Safety Act - in the US you can call your U.S. Representative and urge them cosponsor the Horse Transportation Safety Act, H.R 921.
Canadian Horse Defence Coalition said back in March 2022 that the government had indicated that it will consult with industry, so everyone, this is the chance to make sure the Agriculture Minister and Members of Parliament know the views of horse advocates across Canada and they have a letter you can send to Minister Bibeau here. There are more petitions on their site


There are news items here about it you could read and share:
EU Animal Welfare rules not respected in horse meat trade (February 2022)
Ban on live horse exports for slaughter requested by Trudeau in new mandate (December 2011)
Luxembourg bans live animal transport to third countries for slaughter 2022
Australia banned live sheep exports to the Middle East on animal health concerns 17 May 2022
New Zealand To Ban Live Animal Export By Sea From 2023 14 April 2021
World leading live export ban means thousands of animals will no longer suffer overseas
1 June 2023: The Albanese government is bringing the live sheep export trade to an end! Find out more here