Free the Bears need your help to rescue moon bear cubs in Laos!
Posted on
Free the Bears need our help!
They have sanctuaries in Laos, Cambodia and Vietnam, home to sun bears and moon bears. These beautiful animals have been rescued from a life of captivity, kept for bear bile farming.
The bears all need rehabilitation, the right diet, medical help, and enrichment in the form of things such as hammocks to laze in, climbing platforms, swimming pools to take a leisurely dip in, dens and forest enclosures.

This video gives you an idea of what Free the Bears does.
Visit their You Tube Channel here for more videos!


On Monday, 29th August, their government partners from Luang Namtha, a province in the far north of Laos, contacted Free the Bears. They wanted to tell them about 2 moon bear cubs, both orphans, who needed help!
Free the Bears started to get ready for rescue, and last night, their government partners told them of another moon bear cub. The cub was being held illegally in the same province.
The team from Free the Bears have set off on what will be a long journey to rescue all the cubs – they hope to reach their destination on Wednesday 31 August.
If you are able to spare a few pennies to help with the rescues, Free the Bears would be very grateful – and so would the bears!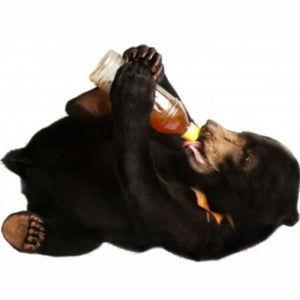 All bears love honey, so you could send the bears a pot of honey as a virtual gift!


There are a number of ways you can donate, and if you have a bear lover in your life, you could give them a bear gift, either for the bears or for people. You could also become a bear carer from £5 a month – find out more about that here.
Visit Free the Bears' website here
Don't forget if you're in the UK to watch Bears About the House on BBC2 on Friday 2 September 2022 at 8pm!