Please help the bears at IAR's sanctuaries in India
Posted on
Please help bears in India at International Animal Rescue's sanctuaries

International Animal Rescue has an urgent appeal for help for their bears in India. The COVID-19 crisis is critical there – as you may have seen from the news.
Essential bear supplies are disrupted
IAR is raising emergency funds to help their Indian sanctuaries to get through the next few months. Some of their team has tested positive for COVID-19 and although extra manpower has been brought in, there is the possibility that sanctuaries may be short staffed. Not only that, the transport system has been disrupted and that causes issues to medical and food supplies.
Bears have needs throughout the day
The bears must have a healthy, nutritious diet. This includes honey (of course!), porridge and lots of fruit.
The staff arrive at about five in the morning to start preparing breakfast porridge, and the bears have their breakfast at 6am. The staff make sure the bears are kept well fed during the day, as well as undertaking other bear necessities!
As the pandemic has spread, the bare caregivers themselves are becoming ill – and that means the bears may not get the food they need throughout the day.
IAR needs donations for the bear sanctuaries
IAR is asking for donations, to help its bear sanctuaries at this desperate time and to make sure there are enough critical supplies to get them through the next few months.



Critically, IAR need donations for:
3 to 4 oxygen concentrators and about 10 oxygen cylinders as critical care for the staff as some have tested positive for COVID-19
Medicines and food supplies for the next few months so that the sanctuaries can get through the next few months
PPE supplies such as kits and masks to keep the staff safe
IAR say that supplies are becoming more difficult to get. The bears need help and so do those who care for them.
Learning from the first wave of COVID-19
There is already a strict curfew and lockdown in Delhi. IAR sanctuary staff are using animal ambulances to move food and medicines for the animals at the bear rescue centres. Last year, the first COVID-19 wave blocked supply chains and sent food and medicine prices rocketing – and the sanctuaries want to avoid that happening again.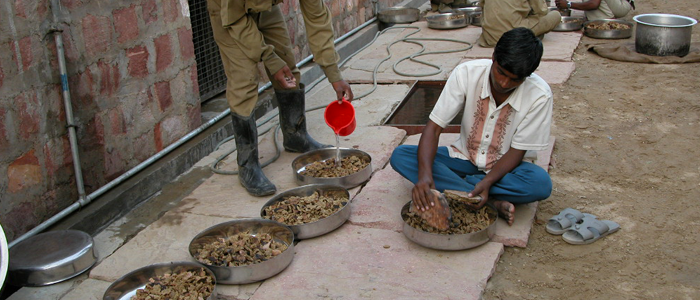 Every bit helps the bears and the bear carers at this desperate time.
I
mages ©International Animal Rescue