Four Paws rescue bears Xuan and Mo!
Posted on
Four Paws have rescued two bears kept in absolutely appalling conditions. Xuan and Mo are safe in the bear sanctuary Ninh Binh, after a 10 hour drive. They were rescued on 23rd March 2021.
In short, the Four Paws team say they have never seen more cruel bear keeping conditions.
Bears Xuan and Mo have been kept in the basement of a shop since they were cubs.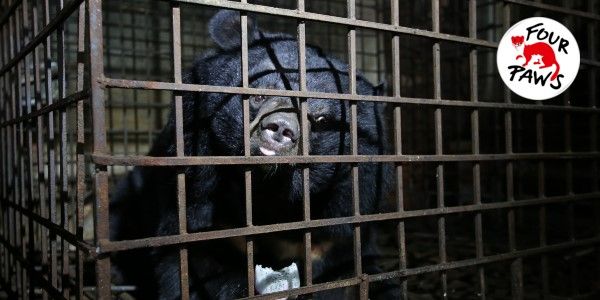 And get this – there were no windows. So the bears were in darkness. There was no light. There was no fresh air. They just have the rusty bars of their tiny cages.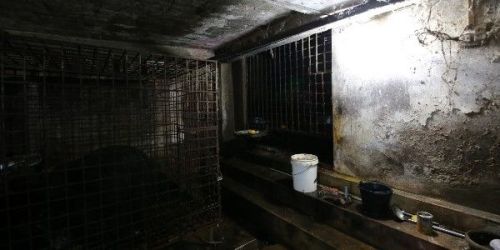 Xuan and Mo saw light, occasionally, when their owner came to feed them. And also when the owner came to puncture their gallbladder with a needle. This is painful. Bile is extracted from the bears and the bile is used for medicinal purposes by the owner's family.
The bears wanted out. And Four Paws wanted to get them out. When the team arrived, they say the bears were quite calm. It was as if they knew they were off to a better life.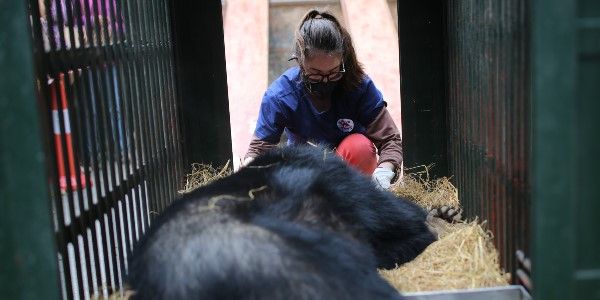 Please donate to help Xuan and Mo
as they start a new life at the bear sanctuary

So Four Paws visited the owner to see if they could rescue the bears.
The room the bears are in had to be lit up with flashlights to see the cages and the animals. The air stank of faeces.
The two bears have come to Four Paws' bear sanctuary Ninh Binh. There they will have the life they deserve. They will get the veterinary care they both need; they will be able to enjoy access to a big outdoor enclosure; and they'll have bedding material, showers and enrichment. In short, they will have a new life.
For the first three weeks, they will be in quarantine to ensure no possible disease could transfer to the other bears there. They will have medical care, be introduced carefully to a healthier diet and have a chance to get to know the people looking after them.
A huge well done and thank you to everyone involved.
Good luck, Xuan and Mo! Be involved in their future!
Our thoughts are with you both and the team looking after you.
You can still help Xuan and Mo today and other bears like them by making a donation. They are counting on us all to help them. Four Paws says that:
£10 could feed a rescued bear like Mo and Xuan for a day.
£25 could help to provide enrichment for an ex-bile bear.
£50 could contribute towards a veterinary check and treatment for bears suffering from gallbladder or kidney disease.
£90 could help to cover pain relief medication for bears rescued from a lifelong time of confinement.
£150 could help FOUR PAWS to continue to research, reveal and rescue more suffering animals in need and bring them to our sanctuaries where they will be cared for and loved.

Images on this blog ©Four Paws