Help donkeys in Pakistan's coal mines
Posted on
Donkeys in Pakistan need help
The Brooke have been in touch about donkeys in Pakistan who needed help. They work in the coal mines there.
Each day, Sunall's donkeys make 12 exhausting trips to collect coal from the deep, dark mine.
The trips take an hour each. Each donkey carries 100kg of coal. The donkeys gasp for breath because of the coal dust.
The donkeys often wound themselves in the mines, from the sharp edges in the tunnels. They can get lame. The mines are cramped. Temperatures are often as high as 50°C.
But this year, supporters of The Brooke have donated an amazing £16,750 this year to help the coal mine donkeys.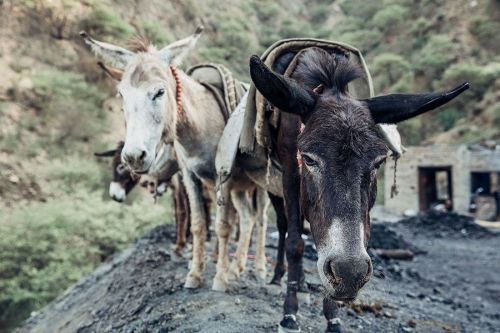 That means that Sunall now knows how to reduce the risk of injury to the donkeys. He knows how to keep them healthy. He says: "Now when my animals are not working I let them roam free so they can roll around and drink from the trough and graze".
Without his donkeys, Sunall's family wouldn't be able to eat and his children wouldn't be able to go to school.
There are thousands of donkeys in Pakistan working in coal mines.
The Brooke wants to raise £50,000 so that they can help more donkeys, by embedding good animal welfare standards in Pakistan's communities and providing first aid training.
Please donate now to help protect more overworked donkeys.