World Bee Day
The 20th May is now World Bee Day, supported by all UN Member States and the International Federation of Beekeepers' Associations. Its aim is to raise public awareness about the importance of bees, highlighting how the beekeeping sector helps in a global sense in such matters as poverty alleviation, preserving a healthy environment and in maintaining biodiversity.
There are honey bees, bumblebees and solitary bees and they all need help.
Here are some ways to get buzzy and help bees...
This runs from 17 May to 30 June 2018. About 270 species of bee have been recorded in Great Britain and here's a great chance to discover more about them and play a part in bee conservation. Until the 30th June 2018, you can use their Great British Bee Count smartphone app to identify and record pollinators wherever you are. The apps are available with Apple and Android, and they've everything you need to get started, including a bee identification guide and survey. There's even advice on how to take fab pictures on your smartphone!
Participation in the Great British Bee Count will give researchers with valuable insights into how to help bees thrive so the more of us that can help, the better. Find out how the information you send through helps with bee conservation here.
The Bumblebee Conservation Trust has a BeeWalk survey you can get involved with to monitor the abundance of bumblebees across the UK. Sign up here.
Creating Habitat for Bees
Take a look at Buglife – the charity which "saves the small things which run the planet". For instance, they have a Get Britain Buzzing campaign. It aims to highlight the crises British pollinators face, and to transform grassland in our urban banks and along road verges into colourful species-rich wildlflower and grassland meadows.
Buglife also have a Urban Buzz campaign. Using innovative techniques, the charity is looking to create 840 Buzzing Hotspots in England and Wales for declining pollinators. It's transforming mown and unused areas of land and so creating over 210 hectares of rich, vibrant habitat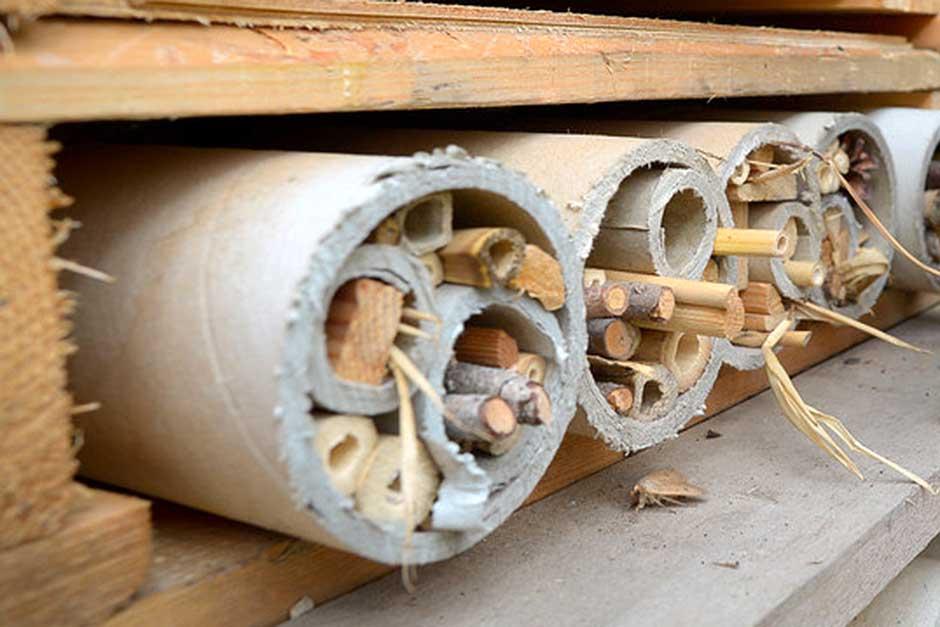 Make a Bee hotel to encourage bees
Get gardening!
Bees need food, shelter and water to survive and thrive. You can grow more flowers, trees and shrubs to provide nectar and pollen as food for bees and pollinators.
There are some beautiful flowers you can plant which encourage bees. The Bumblebee Conservation Trust has info on plants and flowers you can grow in your garden to encourage bumblebees. Buglife has tips on creating a wildlife garden
It doesn't matter what size garden you've got – everyone can do something to help bees, whether you've got a balcony, a patio, a small patch, a big patch – there's something you can do to make a difference. The BBKA's 10 favourite flowers for attracting honey bees in a garden are listed here.
The RHS says 5 ways to support bees and other pollinators in your garden are:
Fill it with RHS Plants for Pollinators plants
Avoid pesticides where possible
Give bees a nest site
Give them water
Become a beekeeper!
And let your garden go wild in places – don't keep it too tidy. Wildlife will love your wild corners!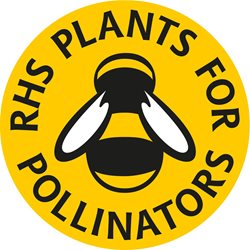 Look for the RHS Plants for Pollinators sign when buying plants, flowers and shrubs for your garden
Every flower helps!


Volunteer for bees
The Bumblebee Conservation Trust has a number of volunteering opportunities
Buglife are looking for Bug Champions to raise awareness of Buglife, fundraising and campaigning.
Buzz off to the British Bee Keepers Association and find out if becoming a beekeeper is for you! There are 75 local area associations throughout England and they offer local communities support and education. There are courses (including for under 18s). If having bees at home isn't going to be right for you, you could always Adopt a Bee Hive
It's also worth checking with your local Wildlife Trust as many are doing work to help bees and you could well find volunteering opportunities or other ways to help. Find your local Wildlife Trust here (there are 47 of them in the UK).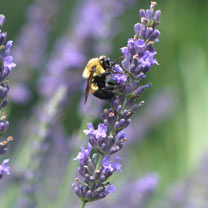 Plants to attract wildlife from Suttons Seeds
Be informed
Many wildlife charities have newsletters you can sign up to. These will give you information on the latest surveys, events, news, volunteer opportunites etc etc. Link up with them on social media as well. You can get up to date info on campaigns they are running that you can support.
Buy a packet of wildflower seeds; take a picture of yourself scattering them – and send it in to the British Bee Keepers Association. Simple! Just by doing this, you could be providing the forage for your own honey and so feeding the bees that feed you, say the BBKA. Which is enough reason to Bee Cheerful!
According to the British Bee Keepers Association, the average age of a UK beekeeper is 66. It's vital that young people know about bees. The BBKA trustees have approved a project to provide participating schools with curriculum-linked educational materials and the means to start an apiary. Find out more about this here
There's also more info about how schools can support bees.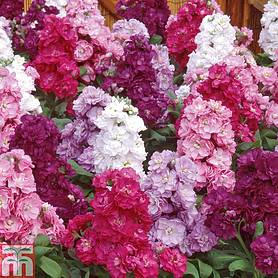 Flowers from Thompson and Morgan
Bee Keeping to Relieve Poverty
Finally, take a look at Bees for Development which promotes sustainable beekeeping to combat poverty and build sustainable resilient livelihoods. It supports beekeepers to maintain environments that are good for bees, for biodiversity and for people. It's a specialist international beekeeping organisation. Bees Abroad is also worth a look, relieving poverty through bee keeping..