Helping animals in the Pakistan floods
Help animals in the Pakistan floods
A third of Pakistan is currently under water. Not quite sure what our world leaders don't understand about climate change, but they need to wake up and stop sticking their heads in the sand, and take some action fast.

The animals have not come out of it well, though a few have been lucky to escape with their lives, and it's difficult to get up to date reports about them at the moment but please keep coming back to this page and I'll add to it as fast as I can. All our thoughts and prayers are with both the animals and people of Pakistan in the affected areas; a very big thank you to those heroes who are doing what they can to help the animals. Here's some footage of two wonderful people carrying dogs to safety, for a start. Geo TV has some amazing footage of people rescuing animals
But What chance did these animals have? Please, please, can each of us start to really think about our role in climate change and what we can do a) to reduce our own carbon outage and b) to help restore and protect nature. If we don't look after earth, earth cannot look after us. There are different sorts of footprint calculators to help you make a start here. You can see a video about the floods here
By the way, Pakistan announced animal welfare reforms earlier this year.
The Brooke (8 September 2022)
The Brooke helps working animals such as horses, donkeys, mules and camels. They say that there are nearly 650,000 working horses, donkeys and mules in the districts we work in that are affected - nearly all of them will probably be impacted by the flooding now. The charity says their colleagues at Brooke Pakistan are working around the clock to give relief and support to affected animals and communities to ensure that the animals who need it have access to emergency food, first aid treatment and relief camps.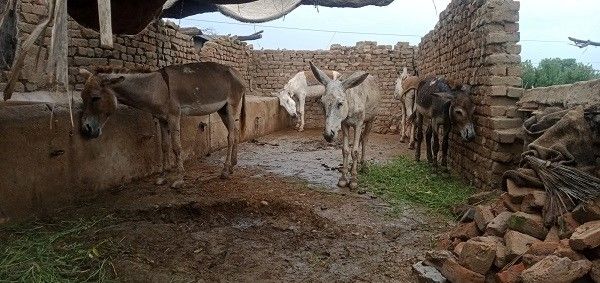 Please donate to help The Brooke
Image ©The Brooke


The Brooke are asking for donations and say:
£19 could feed ten hungry animals
£32 could transport emergency food, medicines and trained staff to reach animals in need
£77 could give emergency health care to 100 animals
Lucky Animal Protection Shelter
In Charsadda, the Lucky Animal Protection Shelter was flooded – it was in the path of the floods. It took a day for the shelter staff to get 250 animals to safety – many are sick and injured - and they have asked for help from the Pakistan government. Sadly, it looks like some have lost their lives. Visit their Facebook page here
Todd's Welfare Society

The Society report on Facebook that a horrifying 800,000 livestock have died in these floods. Please check in with their Facebook page for updates. They are Lahore's first animal shelter and they are dedicated to saving the lives of the sick, injured, and abused animals. #NoTailGetsLeftBehind
Wildlife drown
The Tribune reports that many wild animals at the Kund park – leopards and bears – drowned in this year's floods. Peacocks, ducks and pheasants were lost. The flood waters rose so fast that there was no time to get them out, and many animals drowned in their cages and enclosures. It's absolutely heart-breaking. The terror they felt must be unimaginable.
IFAW
IFAW say that they are sending emergency aid to animals and people, helping local partners to provide emergency supplies and vet care for farm animals, with pet shelters to keep their animals safe and help their long-term recovery and they are also facilitating humanitarian requests for displaced families. You can donate here
Karachi Zoo
Four days ago (26 August) the zoo was unaffected by the rains and floods
The ACF Animal Rescue
They rescue and rehabilitate abused and injured homeless, street animals and working animals. They also highlight "the important role of empathy and compassion to help create a much more civilised and kinder society".


Tahira Animal Welfare Foundation
TAWF is a charity registered in the UK and Pakistan. It built a state of the art animal shelter and rescue service, based in Faisalabad. It works to rescue and rehabilitate homeless, injured and neglected animals. It aims to improve the lives of animals who are injured, neglected and abused by controlling the birth rate of street animals and providing meds, food, water and shelter. It has a vigorous TNVR project (neutering, vaccinating). Visit their Facebook page
Benji Project for Animal Welfare and Rescue
It supports struggling shelters and rescuers in Islamabad, Karachi, Lahore, Peshawar, Charsadda, Abbottabad, and Wah. It deploys Pakistan's first national fleet of animal rescue vehicles and opening Pakistan's very first facility dedicated to trap, neuter, vaccinate and release programs (TNVR), and it's started to collaborate with individuals and officials to implement TNVR programs. Find out more