Help donkeys and horses in Israel
Network for Animals crusades against animal cruelty around the world. It campaigns cover the worldwide donkey crisis, dogs in distress, cats in crisis, seal hunting, elephants, disaster relief and organised horse fighting.
And it is currently raising awareness of a haven in Israel for abused horses and donkeys which is needing all our help.
Horses and donkeys are being evicted!
The haven is being forced to close because the horses and donkeys are being evicted from their sanctuary.
The animals have been safe, and much loved, at the Starting Over shelter in Kefar Yona, which is north of Tel Aviv. Practically all of them were rescued from trouble spots, and many from areas on the West Bank – a turbulent area.
Donkey abuse is common place in many areas. Donkeys and horses are used as transport – but they have very little care indeed. They are half starved, beaten and forced to work until they drop. And after a life of hard work, they are often simply abandoned.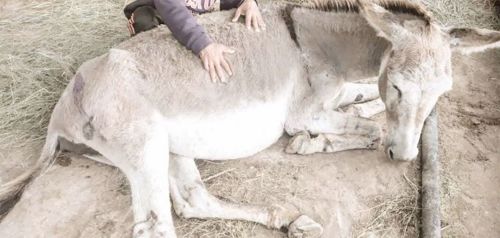 The Network for Animals campaign for donkeys worldwide - find out more here
©Network for Animals
Starting Over needs your help to get them to a new home
Enter Sharon Cohen, who founded Starting Over. She has pleas for help from all over Israel, and she rescues as many horses and donkeys as she can. They arrive, near to death and terrified. And gradually, they recover.
Princess was just a few days old when she was separated from her mother, brutally tied up with ropes around her neck and legs, and left to start. The worst of it is, that cruel children did this for a joke – can you believe it? They left the baby to die. Princess was found shivering from cold, injured and crying for her mother's milk. Starting Over rescued her. She was safe and loved.
And now, the landlord has ended the lease. The animals have to go to a new home. If they don't….
Will you help starting over? Sharon needs all the help she can get. You can donate here. (There are a couple of pictures which are upsetting but please, the donkeys and horses need your help.)
Network for Animals is a registered not-for-profit organisation in the UK and in the US – you can find the details here –