Earth Day is 22nd April
Earth Day is on 22 April 2021 and there are lots of events taking place to celebrate. Conservation charities have been in touch with events and ways in which we can all help.
Conversations with Nature World Summit
20-23 April 2021
This is an online gathering, where the voices of animals, plants, trees, the human spirit, and the creator Mother Earth are given a platform to be heard. Register online


Panthera
Panthera report that we all have a vital part to play in protecting wild cats and restoring earth – here's a chance to connect with cats and restore the earth. Panthera is hoping to raise $50,000 on Earth Day through donations. #Connectwithcats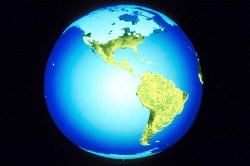 Earth Day is 22nd April
The theme in 2021 is: Restore our Earth
Space for Giants
Space for Giants are asking us to consider what we value most and what we want to protect. It is for each of us to ask this question and then we will be more motivated to protect it. Visit Space for Giants here
Go Vegan for the Day
PETA say that going vegan can reduce your carbon footprint from food by up to 73%. It is challenging us all to choose vegan food on 22 April and spare animals the suffering.


Make your donation go further
International Fund for Animal Welfare announced that a generous donor has agreed to match all gifts to them up to £36,000, the deadline being 22nd April. This could be a great way to help protect marine mammals and other wildlife worldwide. Donate here


And on Earth Day, the Green Match Fund 2021 starts...
From 22nd to 29th April whilst match funds last, your donation to the environmental charities participating in the Green Match Fund will be doubled! One donation, twice the impact. See the charities taking part here.


Global Giving 2021 Climate Action Campaign
A five day crowdfunding campaign to address the climate crisis through a local lense. It helps organisations build financial support for local climate solutions that often go underfunded. So eligible donations up to $100 are matched at 100% - there's a matching cap of $2,000 per organisation during the campaign. See the organisations taking part here. Ends April 23, 2021 at 23:59:59 EDT.