Help International Animal Rescue Pay for a Day to help orangutans
Posted on
Do you love orangutans and want to help this amazing species?
Well, here's a great opportunity! All three species of orangutan are under threat in Indonesia. Habitat loss, mainly for palm oil production and other agriculture, is the main driver.
International Animal Rescue is working hard to tackle the problem:
Rescuing and rehabilitating individual orangutans and reintroducing them into the wild
Protecting forests and undertaking reforestation
Education and community outreach work
Working with all stakeholders to secure the long term future of orangutans, local communities and forest habitat – people and animals depend on them for survival.
Orangutans need enough forest to give them food and shelter, and enable them to move from one area to another so that they can breed.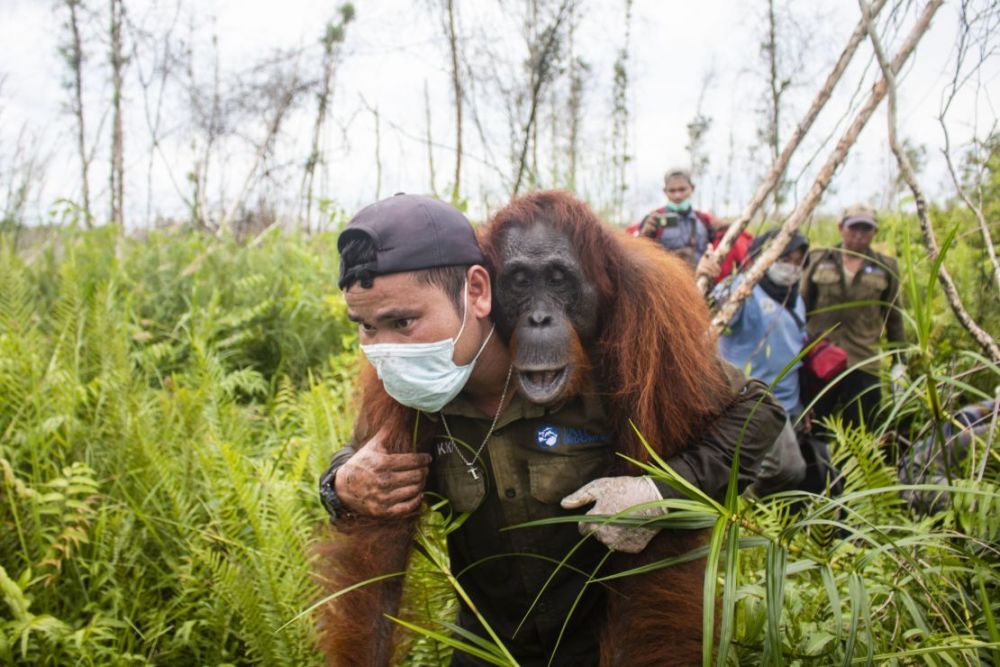 Help International Animal Rescue Pay for a Day to help orangutans
image © International Animal Rescue


This week, International Animal Rescue (IAR) is aiming to raise £4,000 each day from Monday to Friday.
Why £4,000? Well, it's because that's the cost of running the entire orangutan rescue project each day. The £4,000 pays for rescuing, rehabilitating and releasing Critically Endangered orangutans and also for protecting their vital habitats. It also helps educate local communities.
So IAR is looking to raise £4,000 each day from Monday to Friday, to help fund the rescue project.
#DayOne is about being on the frontline of orangutan rescue
The team can be ready to go with little notice so they can respond very quickly to reports of orangutans in need of rescue.
It can take days of travelling by boat, foot and/or vehicle to reach remote parts of the rainforest – and donors are behind rescuers all the way, funding each rescue.
#DayTwo is about landscape conservation.
Orangutans need habitats - and as forest fires destroy the forests, their habitats are vanishing fast. The IAR Indonesia team and the BKSDA are working hard to protect the orangutans - they have planted 65,000 seedlings since 2016! The team is busy protecting forest, reforesting areas which have been destroyed by fires and creating corridors for orangutans to move from one area to another.
#DayThree is about Education
Conservation and education go hand in hand. IAR provides information on the legality of keeping orangutans as pets, and also on orangutan conservation. It talks to the local community about its work and how it affects local people. IAR is in collaboration with the Melawi Regency Education and Culture Office, a programme with activities in schools and which aims to divert young people from activities that destroy nature e.g. illegally seeking forest wood and hunting protected animals. They also help young people develop computer skills to help them get work in the future.
#DayFour is about Rehabilitation
After rescue, orangutans go to a rescue and rehabilitation centre in West Borneo. Here they receive life-saving treatment, with expert care from vets and keepers. Orphaned orangutans go into different schools and taught the skills they should have learnt from their mothers. At the moment, the centre is caring for over 100 recue orangutans and they all need careful, 24 hour care to help them recover.
#DayFive - Release and Monitoring

Release takes month of careful planning as a suitable release site must be found. Work must be done with the local communities and the right steps put in place. It's the most important part of the work - and the most expensive. Orangutans are monitored for up to 2 years after their release, as the field team takes notes on how the orangutan is coping in the wild. If they can't cope, they come back to the centre for more rehabilitation.
So please see if you can help today and make a donation to help #payforaday! Even if you can't donate, please share the word so that we can get lots of people to support the pay for a day appeal.
Visit International Animal Rescue's website to find out more and/or donate here