Donations Matched to Rescue Bears
Posted on
International Animal Rescue have a "double your impact" event on until 29 June 2020.
Bears in Armenia urgently need rescuing and then sanctuary
They have been held captive and are at risk of starving to death. Many are held by restaurant owners who have contacted International Animal Rescue to ask for urgent help. But for these bears to be rescued, more space needs to be created for them. And there are about 40 bears needing help.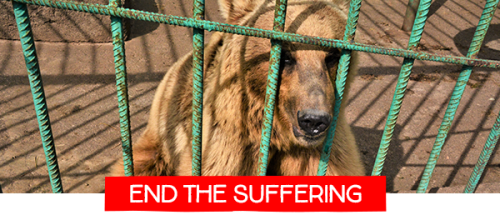 Your donation to help these bears will be matched until 29th June 2020
Donations matched by a kind donor up to £40,000!
Work has begun to prepare a sanctuary for them. Teams are working around the clock to get this done. And there's good news – International Animal rescue has had a very generous donor who has offered to match every donation made, up to £40,000, until 29th June 2020.
This really is a chance to help 40 bears living in terrible conditions in Armenia and to give them the chance of a better life in a sanctuary, where they can be looked after when they arrive and in the future.
Donate and your money will be matched.
This is until 29th June 2020. The donor is matching donations up to a total of £40,000.
Your £5 donation could become £10 at a stroke, without you having to go over £5.00.
A donation of £6 will become £12.00. And so on.
Let's make the most of this opportunity to really help bears and see them in a different life, from a horrible existence in a cage, to a bear sanctuary where they will get the care they need.
Please make a difference to these wonderful bears. They need us.