Go 30 Days Wild this June 2020 with the Wildlife Trust
Posted on
Are you ready for 30 Days Wild this June? For those of you who don't know about it, it's a 30 day nature challenge!
The Wildlife Trusts are running this event again this year – and no matter where you are, you can join in!
The idea is that we all join their nature challenge: to do something wild each day – a random act of wilderness – during the month of June.
All the family can get involved, and so can businesses, care-homes, schools, youth groups – although I appreciate that things are a bit different this year, to say the least.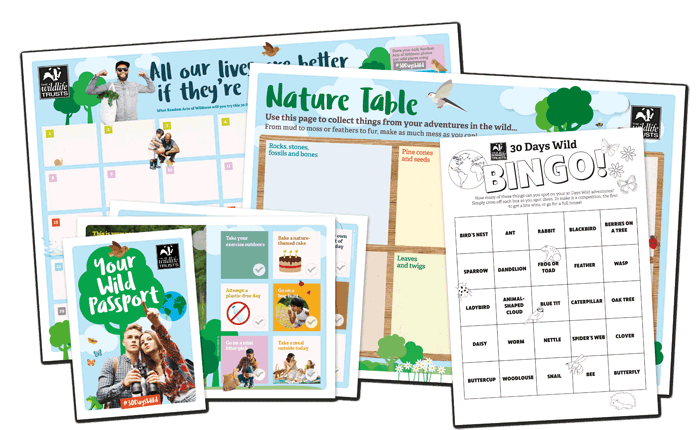 Join in 30 Days Wild this June with the Wildlife Trusts
and connect with nature


Over 91,000 have signed up for it so far – you need to register which is free to do.
You'll get a free downloadable pack of goodies to help you plan your wild month, and lots of other ideas, too. Watch your emails for additional fun things such as instructions for baking hedgehog cupcakes to a beginner's guide to wildlife photography
This is a great chance to get involved with nature and you don't need a garden to do it – you can come up with your own wild nature things to do, too; the main thing is to do one wild thing a day. None of it need take long, either – so no excuses about not having the time!!
Last year, some of the ideas included:
Go stargazing
Sit in a wild spot
Write a poem about a wild place
Watch the clouds in the sky
Organise a mini litter-pick
Save a spider!
Plant a bee-friendly plant in a pot or border
Listen to the dawn chorus
Get involved in a citizen-science project
And tons more!
The pack contents vary, depending on whether you register as your & your family, a care-home, a business, or a school/group. Even if you can't do some of the ideas in June, you can always think of other wild activities to do, and keep the idea going after the month is over! For the Wildlife Trust's Covid-19 statement, follow this link.
Fly off now to the Wildlife Trust's website to register!
Visit the Wildlife Trust's website here to find your local Wildlife Trust
Have fun this June going wild!