Free the Bears' Night in a Cage Fundraiser
Posted on
Since they were founded, Free the Bears have rescued 950 sun, moon and sloth bears. Many of these bears have been used for exotic pets and bear bile, but Free the Bears rescued them and care for many of them in their sanctuaries in Laos, Cambodia and Vietnam.
Like many charities, Free the Bears are having to cancel all their fundraising events and come up with ideas of how people can raise money from home. They have come up with a very creative fundraiser which you can get involved with.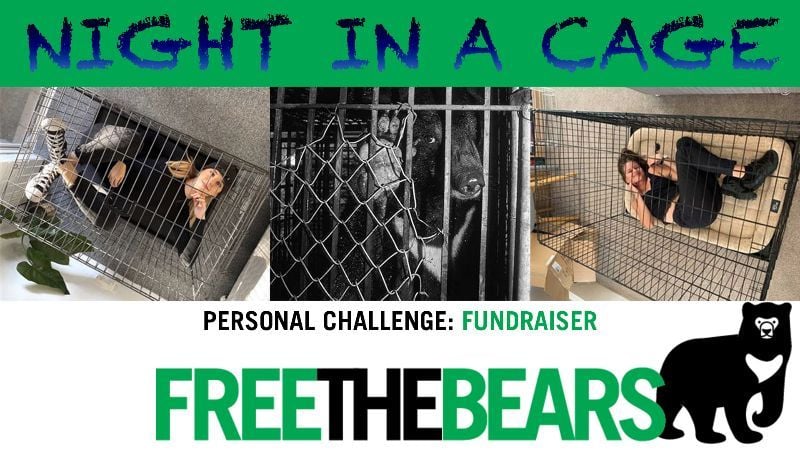 Free the Bears are having a fundraiser called Night in a Cage.
If you think recent restrictions have been bad for us humans in terms of allowing us to move about, imagine what it would be like to have 18 years in a cage, standing on iron bars and mutilated for bear bile?
Well, this is the fate of many bears, including this one, who was recently rescued by Free the Bears and is now in a Free the Bears sanctuary.



So here is how you join up to a Night in a Cage:
REGISTER your personal fundraising page on the NIGHT IN A CAGE team event page using this link with a quick few words about why you are joining e.g. On May 9, I'm spending a night in a cage for Free the Bears to help feed and care for hundreds of rescued bears.


Share your page – you can edit it later, add a photo, change your donation target etc. Share it several times before 9 May to remind everyone what you're doing and how they can help.


Then prepare your "cage" for 9 May – it doesn't have to be an actual cage, it could be a tent, a cardboard box if you can find one big enough, a blanket fort etc – you need to think outside the box on how you're going to create your cage.,
If you can't join in this event, why not sponsor one of the team? 18 people have already signed up and Free the Bears are hoping to make this to 50.
The CEO Matt Hunt of Free the Bears is spending a Night in a Cage at Free the Bears' Laos Sanctuary. You can sponsor him by clicking here.
Free the Bears is a registered Australian charity; they are also registered in the UK.