International Polar Bear Day is on 27th February
Posted on
It's International Polar Bear Day on the 27th February. It's held on the same day every year and the idea is to raise awareness of the challenges facing the majestic polar bear and how we can all help these wonderful animals.
The key way in which we can all help is by reducing our greenhouse gas emissions.
The leading charity or non-profit helping polar bears is Polar Bears International and they are based in North America.

Visit Polar Bears International's You Tube Channel
Polar Bears International are busy researching polar bears, educating people about polar bears and making efforts to make a significant decrease in greenhouse gas emissions by spreading awareness about the real and pressing threat of climate change.
You can help by visiting their Save Our Sea Ice Campaign which includes challenges such as Pedal for Polar Bears, a Thermostat Challenge, a Power Down Challenge and an intriguingly called No Idling Challenge.
Polar Bears International are asking people all over the world to urgent President Donald Trump to set a fair price on carbon, for a start. Policies established in the USA will have an impact around the world. You can sign here .
You can also adopt a polar bear! There are a range of options available, including an eco-adoption plus Mum and Cub, Twin Cubs, Cub of the Year and an Arctic Adoption. Adoptions start at $25.00 so this is an ideal gift for anyone in the US – but the Eco-Adoption means that adoptions are sent through e-mail.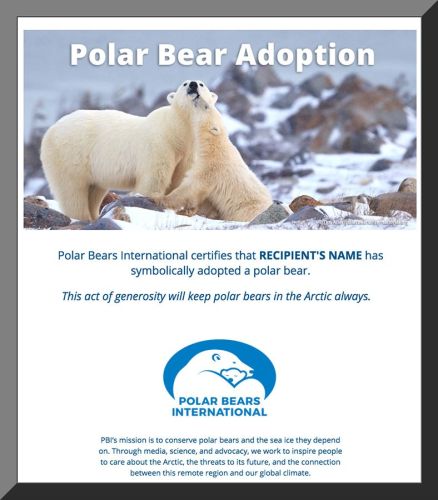 Adopt a polar bear for $25.00 with an Eco-Adoption
At the very least, do go and visit Polar Bears International. They have some wonderful polar bear cams and trackers and days like International Polar Bear Day gives us all a great opportunity to discover more about these wonderful animals, their world and the challenges facing them and how we can all help.
You can also sign up to join the community committed to saving polar bears.
I'm off now to turn the heating down.