Missed an event?
Posted on
So you've missed an event – but it's not too late to take action yourself and make a difference.
I've deliberately delayed the post on National Nest Box Week to prove just that. It runs from 14 February for one week every year and the idea is to encourage everyone to put up a box for garden birds to give them somewhere to nest, rest, and shelter.
The BTO (the British Trust for Ornithology) organises the National Nest Box Week and it's got lots of advice e.g. type of bird bird box, where to put it etc etc etc.
But if that all get too much, you could just put up a generic bird box such as the National Trust or RSPB sell. You can actually get boxes for specific species of birds e.g. sparrows, robins and wrens, if you find more of these visit your place.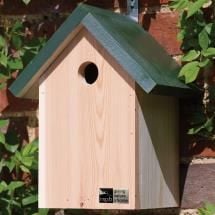 The RSBP have a special offer on their bird boxes at the moment until 9 July 2019 – buy 2 boxes and save £2. This offer doesn't apply to every box, but there's still plenty of choice.
And why stop at birds? You could add a hole in your fence for hedgehogs (just 13cm in diameter) to give hedgehogs a wildlife corridor of their own and even put a hedgehog hotel down to see if a hedgehog comes to check in to your 5 star room in the garden while you're at it.
Take action to help wildlife today.