Will you wear orange for orangutans on Wednesday 14 November?
Posted on
The 14th November 2018 is Orange for Orangutan Day. It comes right in the middle of Orangutan Caring Week.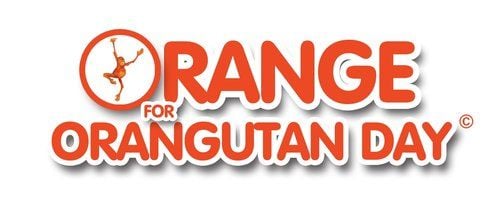 ©Orangutan Foundation
It's a chance to raise awareness and funds for the critically endangered orangutan e.g. by doing a cake sale at work or in school, having an orangutan themed tea-party or simply wearing something orange to raise awareness of the plight of the orangutan.
The Orangutan Foundation is behind the day; it supports "all orangutan species and works to save orangutans by protecting their tropical forest habitat, working with local communities and promoting research and education".
The Foundation recognises that orangutans are essential to their habitat, and like the communities who live there, they are dependent on the forest.
There's also a new t-shirt, thanks to a collaboration with eco-fashion company THTC and wildlife artist and conservationist Gary Hodges. 25% of sales go to the Orangutan Foundation. Buy your t-shirt here.