Flooding in Kerala, India - how to help the animals there
Posted on
You have probably seen the terrible pictures and news reports of the flooding in the area of Kerala in India.
This is the worst flooding the area has suffered in 100 years. Tragically, over 300 people have died but what of the animals in the area?
HSI India is working frantically to help rescue the animals who are stranded or who have been abandoned but there is no doubt that many have perished.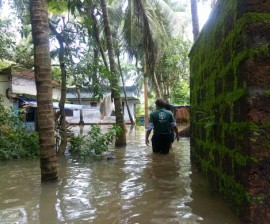 Please donate now to the HSI International Disaster Relief Fund


A team of six HSI/India experts have been working in Nilambur and Tirur, the worst affected areas, for 4 days now. They're working with the Government of Kerala and the National Disaster Response Force to find dogs, cats and other animals who have been left behind as people were evacuated.
And HSI India's team is also providing essential medicines, shelter and food for the animals who are sick and injured.
HSI responds to natural disasters around the world to assist animals and communities in need
To donate to their disaster work, please go to HSI's International Disaster Relief Fund to donate and help HSI help animals affected by this disaster.