Less Plastic - Bamboo Toothbrushes reduce our plastic footprint
Posted on
Do you remember seeing the news about the Pacific island that's been flooded with 38 million items of rubbish?
Amongst the more numerous items they found was one that we all use every day – the toothbrush.
And that got me thinking – was there an alternative to the toothbrush most of us have come to know and use?
Then I started to look – and discovered the bamboo toothbrush.
I bought Bamboo Toothbrushes by Derma Medico from Amazon
. The pack of 4 cost £9.97 so about £2.50 per toothbrush, plus a delivery charge of £3.99.


6 reasons why I would buy these bamboo toothbrushes again…
The package they come in (apart from the packaging Amazon put them in) is environmentally friendly – there's none of the usual plastic packaging toothbrushes come in. It is recyclable, compostable and biodegradable.


The toothbrush is biodegradable. The handle can turn into a plant stake for flower and garden labelling. Even when you finish with the toothbrush, it has a use. I haven't done this yet, but will have a go in spring.


It felt different holding a bamboo toothbrush to a plastic one – but it's a matter of getting used to that feel. It's a matter of changing a habit so it's just needs persistence. It's easy to hold, anyway. Changing a habit often feels uncomfortable but it's just a matter of getting on with it and not giving up.


I clean my teeth 4 or 5 times a day, and the bamboo toothbrushes are standing up well – the bristly bit is as strong as the day I opened it.


Having bamboo toothbrushes might encourage me to change them more often, knowing that they are environmentally friendly. I'm no dentist or dental hygienist, but I would imagine that can only be better for my oral health and teeth.


Most importantly, I love the feel they give me, on my teeth and gums, because my teeth feel great after brushing with these toothbrushes, and in my heart, because I'm doing the right thing for the environment. A bamboo toothbrush means less plastic to injure and kill widllife in the eco-system.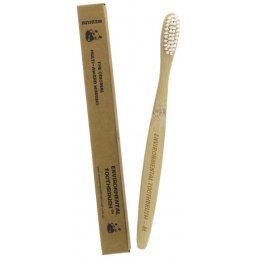 You can also buy bamboo toothbrushes from Natural Collection's online store